Seller Financing, $0 Down. Recreation, Ranch and Investment Lands
No Credit Checks.  Everyone Qualifies.  Starter Plans From $49 Per Month
Simply watch this short video before exploring our website, for the fastest and easiest way to learn more about us, our land, our custom upgrades, 100% seller financing, testimonials, recreation and investment land benefits, free camping trials, private land tours, 10% money match, Starter Plans, Built-In Load Mod and how to become a land owner TODAY!
Watch This NOW To Save Thousands And
Become a Landowner Today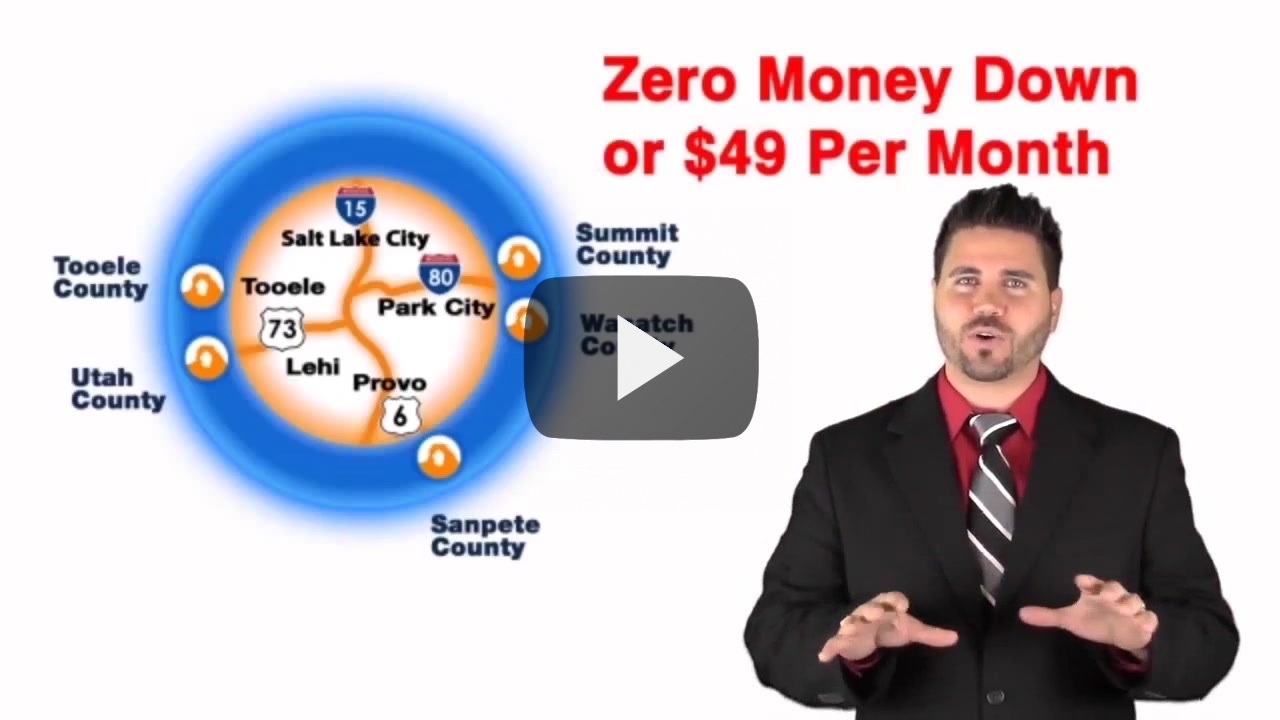 100% In-House Financing.  Same Day Ownership.
Everyone Qualifies. No Social Security Number Required.
Call Us Today!
Whether you are looking for your own private ranch, recreation getaway, tiny cabin or home site or unbeatable investment, we have many locations to choose from.
We are the only Development Company specializing in a large variety of high quality, investment grade, seller financed and affordable properties in many locations closest to SLC and Provo. We are proud to provide our Clients far more recreation and investment value, huge variety of use purpose and sizes, plus many exclusive benefits such as our custom upgrades, free camping trial, 10% money match, Built-In Loan Modification, Starter Plan, Satisfaction Guarantee and 100% no credit check seller financing.
Click the Counties or the big button below to search our Land Inventory.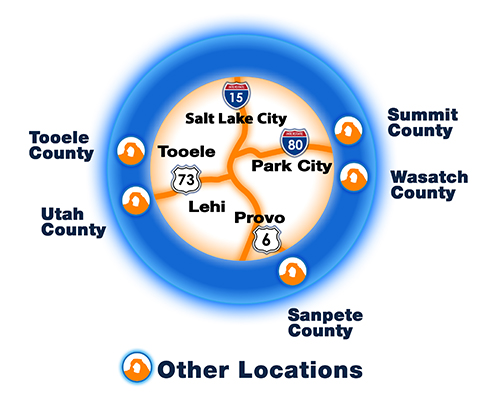 100% Owner Financing

We provide 100% Owner Financing with No Credit Checks.  Everyone is approved.  Just show us that you have a reliable source of income and we will work with you to tailor a payment plan to suit your budget.

No Money Down Option

You can even buy the land with No Money Down.

High Growth Potential

Our Properties are located on the "Magic Circle" growth rings around Salt Lake City and Provo.  As these cities grow, the demand for land surrounding these areas naturally appreciate. What was once farmland is now malls and Wal-mart developments.  Your land could be the next commercial development site as these cities grow.

Built In Loan Modification

We know that life is not always rosy.  Bad things sometimes happen to good people.  Events such as deaths, illness and loss of income are often out of one's control.  That's why we have included a built in 6 month loan modification program with every loan. This means that we will work with you in the event disaster strikes that you will have up to 6 months to make good on your loan before we are forced to foreclose.   Your regular bank is not so generous.

100% Letter of Credit

In the event that you have to forfeit your property due to foreclosure, we will issue you a 100% Equity Letter of Credit that you can redeem against a future purchase of any of our properties. This protects you from the complete loss of your investment, thus enabling you to come back to us once you get back on your feet.

No Credit Check Required

We don't even check your credit.  We don't even ask for your Social Security Number. You will automatically be approved as long as you can prove to us that you have a reliable source of income.

$49 per month Starter Plan

Starting with as little as $49 per month, you can be a land owner TODAY! Because we know that investing in land may require a small adjustment in your budget, we make this really easy for you. We allow you to start out with as low as $49 on qualified properties. This allows you to secure your favorite property before it's sold, and gives you plenty of time to make your adjustments to increase your monthly budget over time, as you pay off other debts, gain new income, etc.

Asset Protection

Keep Your Assets.  We do not register your deed until your property is paid off.  We do not have your Social Security number on file. This means your assets are kept hidden from would be predators from accessing your hard earned money.

Other People's Money: The Power of Leverage

Use our money to grow your wealth through leverage.  With No Money Down and low affordable monthly payments, you get to control a large tract of land. Let's say you buy a $100,000 piece of property and are only paying just $1000 per month. Let's say that same piece of property appreciates CONSERVATIVELY at JUST 5% (historically, our properties appreciate about 13% per year) in 12 months…let's do the math.  The property will be worth $105,000…with an increase of $5000 in value. You will have invested just $12,000 over the last 12 months (at $1000 per month). So this means that your $12,000 just made $5,000. THAT IS A 41% ROI IN 12 MONTHS!
10% Money Match Limited Time Offer!

For a limited time only.  We will offer you a 10% Money Match.  For every dollar you invest with us for the life of the loan, we will give you $0.10 match. For example, if you put in $1,000 into your purchase, we will credit an additional $100 towards the purchase of the property. This means you will INSTANTLY NET A 10% MATCH RETURN ON INVESTMENT from day one. This offer may be withdrawn without notice.  We encourage you to act quickly to take advantage of this incredible offer.
FREE FAMILY CAMPING PASS SPECIAL BONUS. Own 1, Camp on all of them.
When you purchase a piece of property with us, you will be part of our family. As a part of our family, you will be able to enjoy the use of ANY OF OUR QUALIFIED PROPERTIES FOR FREE.
Bored with going back to your same property year after year? No problem. Enjoy FREE Camping at any of our many qualified locations....at no charge!

10 Day Money Back Guarantee
If at anytime within 10 days of closing, you are unhappy with your purchase for whatever reason, we will refund your money.  Every single cent of it. We want our customers to be happy. Your bank will certainly not give you such a guarantee. We've been in business for many years and we rely on happy customers to give us referrals.
Magic Circle Millionaire Tutorials - Quickly Learn to Build More Wealth, Effortlessly, Safely with $0 Down and $49/mo+
Around 95% of the population choose investment and retirement wealth plans that only provide them a NET amount of around 5 to 10% of the total money needed for retirement. This includes 401K's with company match, which are the biggest false hope dead-end mistake that most people are wrongfully convinced is their only solution.
There is a far more proven and profitable solution that the ultra wealthy have always chosen, and still choose today. We call it Magic Circle Land Investing, otherwise known as a form of Land Banking.
Magic Circle land wealth has produced more millionaires then anything in history. Utilizing the unbeatable power of Leverage (Seller Financing) for owning Magic Circle land provides an unbeatable solution to creating and protecting more wealth, safely and affordably.
We encourage you to take advantage of our FREE Wealth Building education Tutorials that quickly teach you why other investments and retirement plans fail for about 95% of the population, and the solution to this tragic epidemic of financial failure in America.
We have spent over 4 decades creating and perfecting Magic Circle Investment Strategies. Our strategies are perfect for nearly any sized budget or investment experience level, because it is all effortless, automatic and provides you your own private land ownership within the Magic Circle, for very a small investment out of your pocket.
Learn How To Start Creating Massive Wealth, Safely
and Affordably TODAY!
Go from $0 to $60,000 in asset growth base you own and control, INSTANTLY!
FREE BONUS Secret Millionaire Transformation Kit

Earn Effortless Monthly Cash Flow On Magic Circle Land NOTES
If you are interested in making effortless monthly cash flow on NOTES that pay you 8%+- interest annually, we can help you.
Our NOTES range from a few thousand dollars for one, to packages in excess of $1 Million dollars. Our NOTES are well secured by prime high demand Magic Circle land that averages 10%+- annual value growth, historically. We also have Water Right NOTES.
Your annual return on investment with our NOTES is negotiable based on the amount of NOTES you purchase, ranging from an average of 8%, to as much as 15% for larger packages.
You become the sole owner of the NOTES you purchase, we do not pool funds or invest your money for you.
We encourage you to watch these testimonials from a few of our thousands of Clients.  These are for Client growth and ownership benefits example information purposes only and should not be used as a reason for your purchase.  All results and benefits vary and there is no guarantee of any results or comparable growth or benefit.  All investments involve risk.  Please see our full disclaimer here.
And thousands of other satisfied clients.